Raffaela blends the following modalities and elements tailored to an individual's needs:

· Neuromuscular Therapy(NMT)
NMT is a comprehensive technique of soft tissue manipulation that balances the central nervous system (brain, spinal column and nerves) with the structure and form of the musculoskeletal system and addresses specific myofascial trigger points.

· Biodynamic Craniosacral Therapy(CST)
Biodynamic Craniosacral Therapy (CST) works to enhance the body's most powerful element for healing, namely, the cerebral spinal fluid (CSF). The therapist's are trained (700 hours) to perceive the subtle expressions of the CSF with their hands and to identify areas that cannot express it due to trauma which can contribute to numerous conditions and chronic pain.
Using a soft touch, practitioners compliment the body's natural healing processes facilitating release of restrictions in the body to improve the functioning of the central nervous system. CST can be used as a preventative health measure for its ability to enhance resistance to disease. The following is a list of some of the wide range of conditions which may repond favorably to treatment.
Arthritis - Autism - Back Pain - Birth Trauma - Post Partum - Bone and Joint Disorders - Breathing Disorders - Bronchitis - Chronic Fatigue - Colic - Depression - Digestive issues -
Drug Withdrawal - Exhaustion - Frozen Shoulder - Headaches and Migraines -
Hormonal Imbalances - Hyperactivity - Insomnia - Learning difficulties - MS -
Menstrual Pain - Muscular Aches and Sprains - Nervous Disorders - Post Dental Trauma -

Post Traumatic Stress Disorder - Rheumatism including Rheumatoid Arthritis - Sciatica -
Stress-related conditions - Stroke - Traumatic Brain Injury (TBI)
TMJ/jaw disorders - Trigeminal Neuralgia - Visual Disturbances

· Lymphatic Drainage Therapy(LDT)
Lymphatic Drainage Therapy (LDT) works to free the body of toxins and enhance general health. It can be likened to clearing irrigation ditches of debris. Removing debris creates a vacuum causing the blockage to clear itself. LDT works in a similar manner in the body by the therapist identifying blockages and clearing areas of accumulated toxins. In this way the body is now able to clear and heal itself.
LDT under the modern methods of Dr. Bruno Chikly addresses body fluid systems: lymph, interstitial fluid and synovial fluid. It is the first approach to teach how to accurately attune to the specific rhythm, direction, depth and quality of lymph consistent with modern scientific discoveries.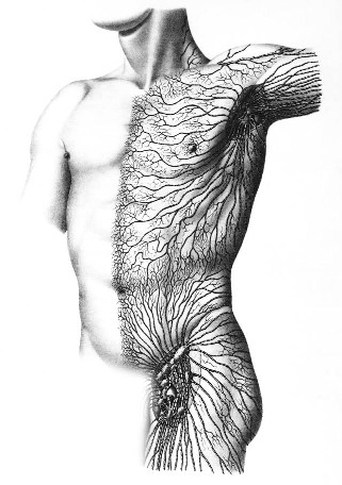 This picture shows the vastness of the lymphatic vessels in the body.
Use Lymphatic Drainage Therapy to:

· Detoxify

· Rejuvenate

· Stimulate movement of Stagnant Fluid

· Regenerate Tissues (i.e. Scars, Adhesions)

· Stimulation of Immune System for preventative health maintenance

· Alleviate Chronic Pain (i.e. Headaches, migraines)

· Enhance Deep Relaxation

· Alleviate Insomnia, loss of vitality

· Stimulation of fluid circulation to improve edemas (swelling), primary and secondary lyphedemas and venous conditions

· Relieve Chronic Inflammation

· Restore range of motion in restricted areas

· Enhance optimal health and wellbeing


"Lymphatics are the next frontier of discovery in human disease.
Long ignored because of their subtlety and complexity, the mysteries of our cellular 'waste disposal' system have been comprehensively deciphered by Bruno Chikly."

Mehmet Oz, M.D., Cardiothoracic surgeon,
Author of "Healing from the Heart"


---
· Cold Laser Therapy
Laser therapy stimulates the cells' mitochondria to produce energy (ATP) at the local level which speeds up healing within the tissues.
Aplications of Laser Therapy
Research Demonstrates:
• Injuries treated with laser therapy heal faster
• Laser Therapy has a strengthening effect on tissue repair
• Laser Therapy improves blood flow and lymphatic drainage
• It is an effective means of relief for many pain syndromes
• It can improve immune response
Benefits
• Speed Healing
• Reduces Recovery Time
• Pain Relief
• Stabilizes Spinal Structure
• Non-Toxic
• Virtually No Contra-Indications
• Non-Invasive
• Epigenetic Benefit
• No Harmful Side Effects or Pain
• Over 3000 Clinical Studies Published Worldwide
• FDA Cleared Treatment

Thalossal therapy as used by Raffaela refers to the use of seawater products and clays to enhance a person's overall health and to treat specific tissues that have been compromised in some way. "Thalassa" comes from the Greek word meaning "sea". Seaweeds are rich in minerals and trace elements that are essential to the human organism including copper, iodine, zinc and a variety of vitamins. Both seaweeds and clays are negatively charged. This makes them effective in binding to toxic elements which are positively charged thus accounting for its detoxifying capacity.
The use of hot water with the sea products and clays dilates the skin's pores and blood vessels allowing the skin to be more receptive to the active ingredients contained in these products. Thalossal therapy is a highly relaxing treatment that is often used for esthetic purposes including facials, treatment of cellulite, detoxification and weightloss. Thalossal therapy is also effective neuromuscularly as it deeply nourishes compromised tissue enhancing healing and recovery from a variety of conditions. Clients with the following conditions have benefited from the use of thalossal therapy combined with lymphatic drainage and craniosacral therapy:
lymphedema and edema

toxic exposure
adhesive (scar) tissue
fractures slow to heal
rheumatoid arthritis
arthritic joints
mental/physical/emotional exhaustion
soft tissue injuries slow to heal
asthma
chronic lung inflamation
colitis and irritable bowel syndrome
Essential Oils/Aromatherapy